Fleas Navidad!

Dear Santa Claws:
Another year has gone by, and once again, Santa, we sure could use a helping paw.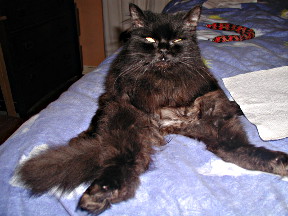 "Humbug!" —Portia
Our charges have been mostly good—well, except maybe for Portia (hiss!)—and we've gone through several changes, but thankfully no deeply sad stories this year, for which we are thankful. We still post adoption notices for our cats and kittens on UW Today and PetFinder, and we still rescue, foster and rehabilitate ferals when we can, and keep them fed and warm in the outdoors when we can't.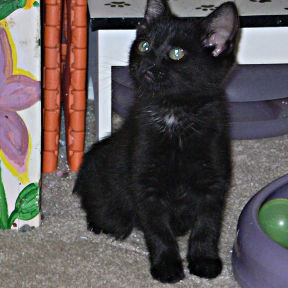 Ophelia
We have some good memories to share. Our adoption of the year was Ophelia, the shy black kitten with a crumpled tail who, on her adoption day, strode from her carrier, kinked tail high and proud, to royally claim the hearts of the resident Chihuahua and marmalade cat. She immediately and thoroughly inspected her new kingdom (first admonishing the hovering, trembling Chihuahua with an imperious, upraised paw) and only after allowed her subjects to approach and worship . . . and, of course, eventually join her in a headlong romp.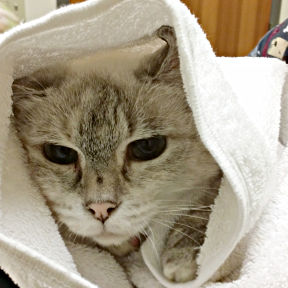 Ol' Susanna
Our rescue of the year was of an elderly, failing feral whose grieving caretaker asked Campus Cats to catch her and end her suffering. Instead, we took the old girl to our intrepid vet who fixed her up—and the caretaker has adopted her. Ol' Susanna is still a work in progress (she went blind soon after she was taken in, but seems to be regaining at least some of her sight), but she is going to spend her final days indoors, in warmth and comfort.
It doesn't take much to keep us going; we are a small, all-volunteer operation, and a little goes a long way. All proceeds go to help cats in need or to support our kittens and cats in foster care. Anyone can donate to us via Network for Good. We're also on the list of charities for the UW Combined Fund Drive (you'll have to search for "Friends of Campus Cats"). Or you might simply mail us a check. Of course, we gratefully accept items for our annual Jumble Sale year-round: just call (206) 442–2051 to make arrangements. Remember that all donations are tax-deductible.
Love and Hisses,
Friends of Campus Cats
P.S. Don't miss our Jumble Sale in July! Check our website next spring for the date.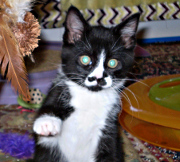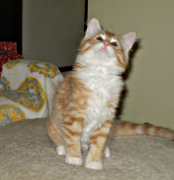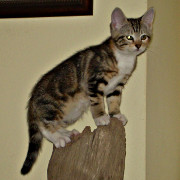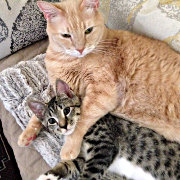 Friends of Campus Cats is a 501(c)(3) nonprofit corporation.
POB 75224, Seattle, WA 98175–0224 ❧ (206) 442–2051